Different era's of the NBA have had distinct periods of time where certain positions dominated the league. For much of the league's early history big men such as Bill Russell, Wilt Chamberlain, and Kareem Abdul-Jabbar dominated the NBA and the record books. Moving forward to the early 2000's the league was dominated by electrifying shootings guards. Players such as Kobe, Vince Carter, Tracy Mcgrady, and last but certainly not least Allen Iverson dazzled crowds with their microwave like ability to heat up and take games completely over. In Recent years, primarily since 2010 the overwhelming dominate position in the NBA has been the point guard position.
In the seven years since 2010, league MVP honors has been awarded to a point guard four times and is easily the deepest position with the most versatile depth that the league has to offer.
Point guards ranging from score first maniacs such as Russell Westbrook to deadly deep range shooters such as Stephen Curry dominate the league and even guys with old school pass first games such Chris Paul and Mike Conley hold their own the game today. So with that being said let's get started on my list of the top ten point guards the association has to offer!

10. Mike Conley
2016-2017 stats: 20.5 PPG 6.3 AST 46.0 FFG%
Mike conley put together a excellent campaign this past season. Averaging a career high in points and establishing one of the best PG/Center duos in the NBA with Marc Gasol last season but if the Grizzlies expect to advance any further in the playoffs they'll need to add a consistent scorer for Mike Conley to set up who preferably plays on the wing.
9. Kemba Walker 
2016-2017 stats: 23.3 PPG 5.5 AST 44.4 FFG%
The former UCONN standout is now entering is seventh NBA season which is CRAZY to think about. It seems like just yesterday he was hitting game winning buzzer beaters in the Big East tournament, literally carrying the Huskie's to a National Championship.
Kemba has shown to be a great offensive player with a knack for creating separation with his quickness and elite ball handling ability. But if Kemba wants to move higher on these type of lists he'll need to be a better & more consistent shooter and improve his defense by leaps and bounds to be considered elite.
8. Kyle Lowry
2016-2017 stats: 22.4 PPG 7.0 AST 46.4%
Kyle Lowry has probably shown the most progression as a point guard out of every player on this list. From humble beginnings with the Grizzlies playing in just 10 games and averaging 5 PPG Lowry has turned himself into one of the better guards in the game along with being apart of one of the best duos the league has to offer (Derozan). Kyle is a quick witty defender with good court vision and an ability to stretch the floor very well.
7. Isaiah Thomas
2016-2017 NBA stats: 28.9 PPG 46.3 FFG% 37.9 3P%
Quite possibly my favorite point guard on the list! Isaiah Thomas is probably the greatest player ever 5'9 and under. With an ability to attack the basket at will he literally amazes me with how easy it is for him to convert baskets around the rim considering his size. Thomas can stretch the floor, shooting the deep ball from far beyond the arc at times, and last season was the best 4th quarter player in the league leading all NBA players in 4th quarter PPG.
6. Damian Lillard
2016-2017 Stats: 27.0 PPG 4.9 REB 5.9 AST
If you didn't know already, Damian Lillard isn't just a skilled lyricist in the booth, he's also a damn good basketball player too! Last year averaging a career high in points Dame can score at will by either attacking the basketball, pulling up from three point range, or settling for a deadly midrange shot.. Dame can do it all! Every year he fails to receive the credit he truly deserves for getting the Trailblazers to the playoffs even with their less than stellar roster.
5. Kyrie Irving
2016-2017 Stats: 25.2 PPG 47.3 FG% 40.1 3FG%
Kyrie Irving…The man who hit the biggest shot NBA Finals history, the man with Mamba venom in his blood, the man who wants to prove that he can carry his own team comes in at number five. Kyrie is truly a special player. I've often said that i've never seen someone finish around the rim and attack the basket as beautifully as he does and I mean that. An excellent shooter with an ability to razzle and dazzle crowds with his incredible ball handling ability Kyrie has established himself as one of the elite players in the game today and quite possibly the best player the NBA has had since Kobe Bryant's prime ended.
4. John Wall
2016-2017 NBA Stats: 23.1 PPG 10.7 AST 45.1 FG%
The progression of John Wall and the Washington Wizards has really been a sight to see. Wall is an excellent defensive player at 6'4 with the ability to guard any point guard and shooting guard in the league, an excellent passer whom i would go as far as to say he's the best passer the league has to offer, and out of this world athleticism Wall does a lot for this Wizards team that doesn't just show up in the box score.
3. Chris Paul 
2016-2017 Stats: 18.1 PPG 9.2 AST 47.6%
Chris Paul is no longer the young point guard that everyone would debate about between him and Derron Williams on whose the best point guard in the NBA. Instead he's still a very elite point guard with a old school pass first game. CP3 is a superb passer and still and incredible defensive player (first team all defense for a reason) and has now transformed himself into a deadeye shooter from deep.
CP3 is now playing alongside the best teammate he's ever had with James Harden and it'll be interesting to see how the two play alongside each other on the court this season.
2. Russell Westbrook 
2016-2017 Stats: 31.6 PPG 10.7 REB 10.4 AST
Russell-Freaking-Westbrook. Only the second man in NBA history to AVERAGE a triple double for an entire season…simply incredible.
Russ put on a historic 2016 season in which he accumulated the most triple doubles in a single season and received his first MVP award which is even more incredible considering this was his first season without Kevin Durant. It will be interesting to watch how his game integrates with PG-13 and Melo but if my guess is correct they will be an exciting team to watch that'll win between 50-55 games.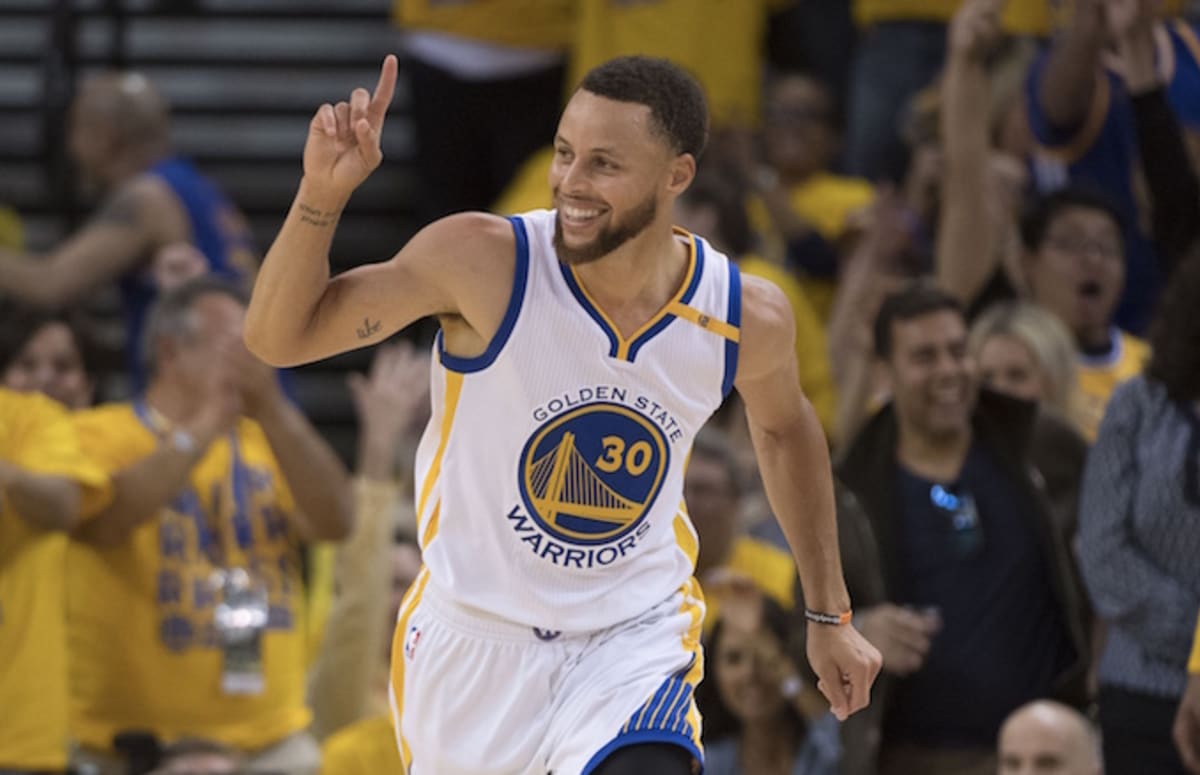 1. Stephen Curry 
2016-2017 Stats: 25.3 PPG 46.8 FG% 41.1 3FG%
Was There really any surprise here? Steph has won two of the last three MVP awards and has been to three straight NBA Finals winning two of them. Putting together one of the greatest seasons in league history last season, Steph followed that up with a great season this year too even with the addition of Kevin Durant but this time with it ending in a championship parade.